2018
THE SINGER
SPEAKS UP, SINGS
OUT AND FACES THE
WORLD IN HER VIVID
RED LIPSTICK.

Sia has pushed the boundaries of pop music by raising her
own voice – and inspiring her fans to do the same. In 2018,
she unveiled a matte warm red Lipstick to support the
M·A·C AIDS Fund that dared to be loud.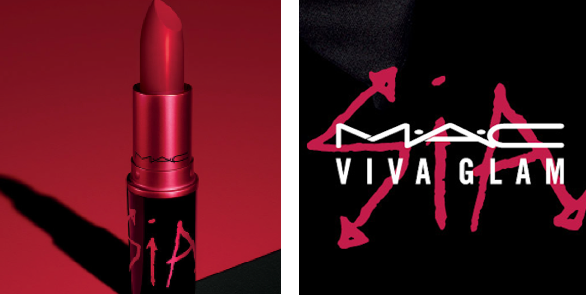 2008
VIVA GLAM VI
SPECIAL EDITION
FERGIE COMMANDS
ATTENTION IN HER
LUSTROUS MAUVE
LIPSTICK.
Fergie puts the "Boom Boom Pow" into beauty with her
call to arms to push forward on behalf of every man, woman
and child affected by HIV/AIDS.
2006
DITA VON TEESE
FLAUNTS HER
PEARLY
TERRACOTTA-
PLUM LIPSTICK.

A fashion darling and innovator, the International Queen
of Burlesque spread glam around the globe in her role as a
VIVA GLAM spokesperson.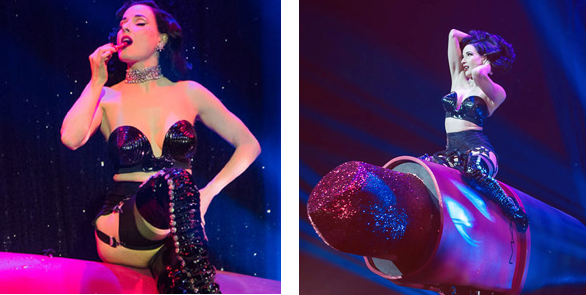 2004
CHLOË SEVIGNY
IS A TOTAL
SMOKESHOW
IN HER NEUTRAL
PINK LIPSTICK.
M·A·C Cosmetics celebrated its 10th anniversary
by naming the it-girl and New York style icon as one of
the latest spokespeople for VIVA GLAM.
2002
M·A·C GOES
TO THE
UNITED NATIONS
THE M·A·C AIDS FUND
PROUDLY DONATES
$250K TO THE
UNITED NATIONAL
DEVELOPMENT
PROGRAMME.
M·A·C presents a $250,000 check
on behalf of the M·A·C AIDS Fund to the United
National Development Programme for its continued
efforts in the fight against AIDS in Africa, and to
launch a new AIDS initiative in Asia and the Pacific.
1996
K.D. LANG FEELS THE
LOVE IN HER CREAMY
PINK-BEIGE LIPSTICK.
After the huge success of the original VIVA GLAM I,
M·A·C launches the second VIVA GLAM campaign fronted
by the self-described "non-lipstick lesbian" and Canadian
singer-songwriter sensation. The invitations to k.d.'s VIVA GLAM II
Lipstick launch party were designed as playing cards that
featured k.d. as queen.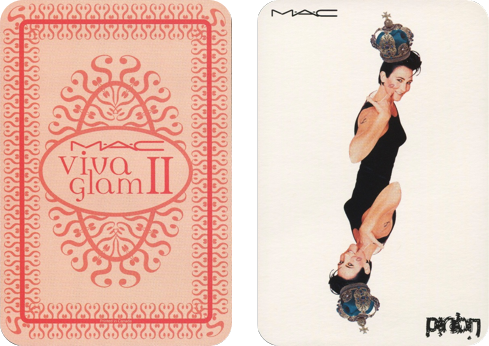 1995
COUTURE
COLOUR
COLLECTION
GLOBAL DESIGNERS
SUPPORT VIVA GLAM
WITH FASHION IN THE
COLOUR OF VIVA
GLAM I LIPSTICK.
In 1995, fashion designers including Marc Jacobs,
Vivienne Westwood and Katharine Hamnett participated in
creating a couture colour collection showcasing the shade
of the original intense brownish red VIVA GLAM I Lipstick.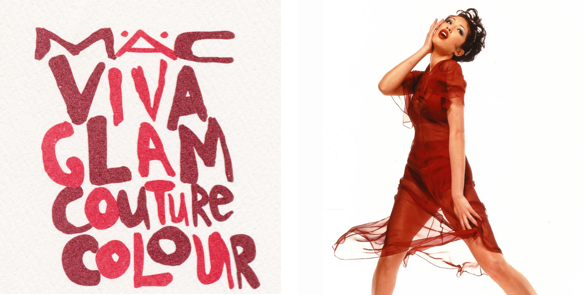 1994
THE CREATION
OF VIVA GLAM
THE FIRST GRAPHIC
FEATURING A BLUE
LIPSTICK ANNOUNCES
THE BIRTH OF
VIVA GLAM.
With words by M·A·C co-founder Frank Toskan, a bold
graphic is created to launch VIVA GLAM and the M·A·C
AIDS Fund. The campaign announced that every cent of
the selling price of VIVA GLAM Lipstick would be
donated to the M·A·C AIDS Fund to help fight HIV/AIDS.
1984
M·A·C
COSMETICS
IS BORN
M·A·C COSMETICS
IS FOUNDED BY
CO-CREATORS
FRANK TOSKAN AND FRANK ANGELO.
From the start, Frank and Frank had a vision to
change their community through their passion for
makeup. "We developed a great lipstick colour we
called VIVA GLAM," said Frank Toskan. "This little
lipstick gave people dignity and saved lives."